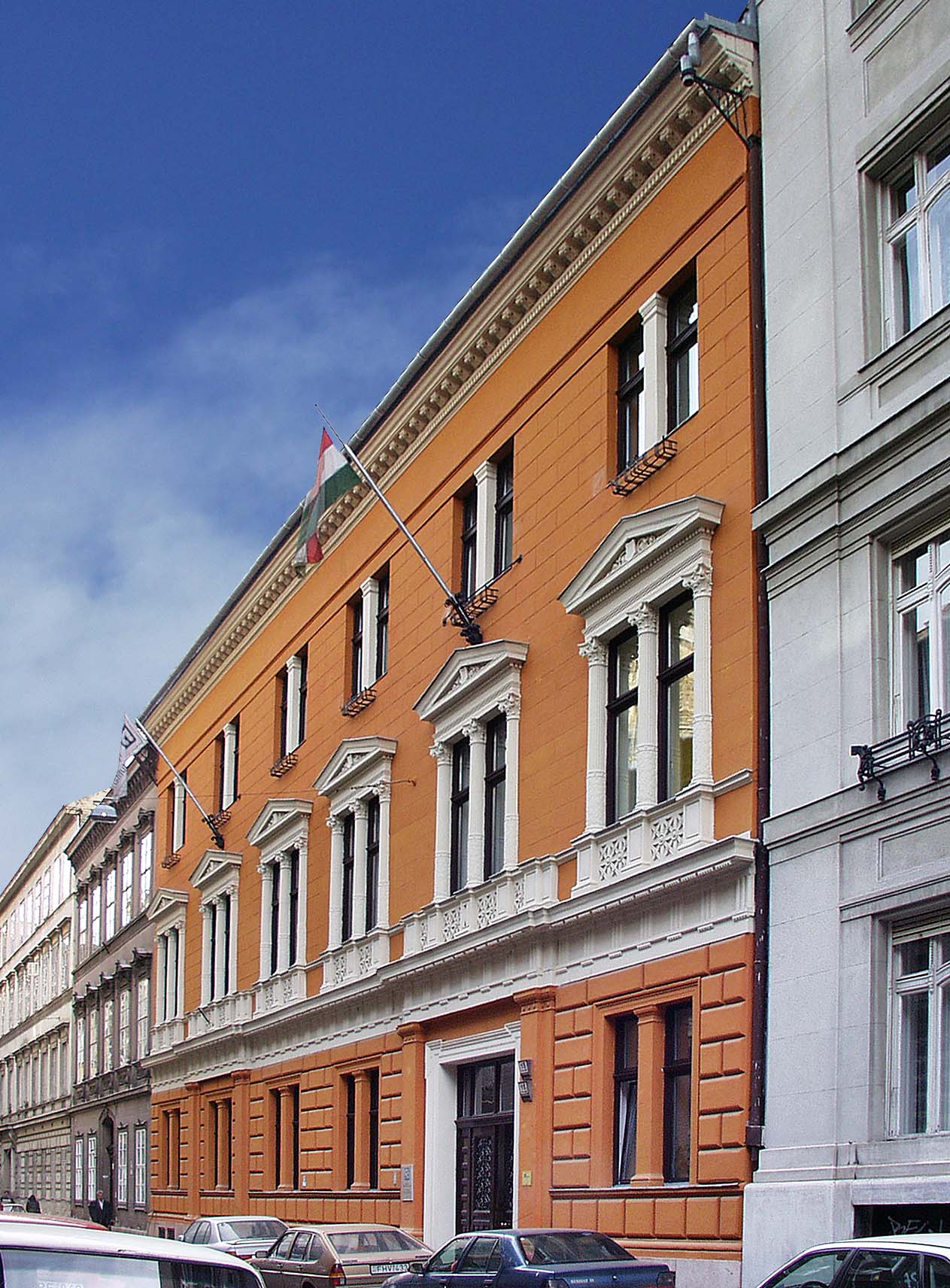 Address
Alfréd Rényi Institute of Mathematics,
Hungarian Academy of Sciences

Reáltanoda utca 13-15, H-1053, Budapest, Hungary

Mailing address: POB 127, H-1364 Budapest, Hungary

Tel: +36 1 483-8302
Fax: +36 1 483-8333
e-mail: math@renyi.hu
How to come to the Institute
GPS coordinates: LATITUDE 47.492985, LONGITUDE: 19.058877
The Institute is situated in downtown Budapest, at 13-15 Reáltanoda St, in the proximity of several underground stations and bus stops.
If you take underground line No. 2 (red), get off at Astoria. Walk past the main entrance of Hotel Astoria in Kossuth Lajos St., then take the first side-street on the left, which is Magyar St. Then Reáltanoda St. will be the first on the right. Once there, you can't miss the building of the Institute, painted in orange.
If you take underground line 3 (blue), get off at Ferenciek tere. Walk out of the tube station and take the exit which is behind you on the left. Then continue straight ahead on the left side of the street, walking past the church and Restaurant Kárpátia. Reáltanoda Street will be the first on the left.
If you take trams Nos. 47 or 49, get off at Astoria and continue as above.
Buses 5, 7, 8, 112, 173, 178, 233E and 239 stop both at Astoria and at Ferenciek tere; 15 (in only one direction, from Boráros tér to Lehel tér), 7E, 173E only at Ferenciek tere. You can find information on routes and schedules here
Public transportation
In Budapest, there is a great variety of public transport: underground (metro), buses, trams, even trolleys. Passengers taking any of them should use pre-purchased tickets that should be validated at the beginning of the journey (in the underground at the entrance, otherwise on the bus/tram etc.) For more information on schedules, night services or tickets see the page of BKV Rt. (Budapest Transport Ltd.)
Prices are constantly rising; as of January 2013 price of a single ticket (valid for any form of transport for one journey of arbitrary length) is 350F. You can buy blocks of 10 tickets which are somewhat cheaper than buying just single tickets. There are also monthly passes but they are worth buying only for those staying for at least a month and are regularly using public transport.
You can read more about different kinds of tickets and passes here.
Taxi
In general, when taking a taxi while in Budapest the fare is lower if you call the taxi by phone. Take one belonging to a taxi company (e.g. Fotaxi which is also the official airport-city transfer company). When you flag a taxi on the street you should inquire about the fare in advance in order to diminish the risk of unpleasant surprises (price hikes).
Arriving to Budapest by air
If you don't have a lot of luggage, the cheapest (and sometimes fastest) way is to use the regular (blue) bus service that for the price of a regular ticket (350 HUF) takes you to the end station of underground (Metro) line No 3. On this bus you can also buy a ticket from the driver (450 HUF).

Bus No 200E runs roughly every 12-15 minutes. Buses are available till after midnight, but keep in mind that the last underground train leaves at 23:15 (there are night buses afterwards).

As public transportation tickets are valid for single rides only, you need to get a new ticket when transferring from the bus to the metro.
There is a shuttle service called Airport Shuttle, which costs 3200 HUF for one person one way; 5500 HUF roundtrip. For two people the prices are 4790 HUF one way and 8790 HUF roundtrip. The Airport shuttle picks you up together with 4-5 other passengers and takes you to the given address, but you may not be the first to get to your destination. You may buy your minibus ticket at the counter in the arrival hall (ATM's and exchange bureaus are available at the airport). Your return trip should be ordered by phone 1 or 2 days before leaving. (phone #: 296-8555). For years this service was the best one, but recently the quality declined (they have less cars, etc.) If you see many people waiting, it is better to take a taxi or a bus.
The official taxi company is FőTaxi. It costs about 7000 FTs to get to the Institute from the airport.
Arriving to Budapest by train
If you arrive at Keleti (Eastern) Railway Station, you can take underground line No. 2 to Astoria and several buses (numbers 7, 173, 178 etc), also to Astoria or Ferenciek tere stop. Then see the map above. Those who arriving to the Nyugati (Western) Railway Station in Budapest can continue to the institute by metro line 3 to Ferenciek tere. Then see the map above. If you arrive at the Déli (Southern) Railway Station, you can take underground line No. 2 to Astoria. Then see the map above. If you arrive late at night it is better to take a taxi (see above).